'Star' power
The Army creates an avatar to talk to prospective recruits.
The Army has launched a virtual guide to lead visitors through itsrecruiting Web site, using artificial intelligence to replace online chat with live recruiters.Accurate answers by 'Sgt. Star' (for Strong, Trained And Ready) to users' questions not only have reduced the number of live chat sessions but also increased traffic to www.goarmy.com and nearly quadrupled the length of the average visit since his rollout last August.At a time when the Army is facing growing challenges in meeting its recruiting goals, Sgt. Star appeals to a key demographic of young, tech-savvy males being sought by the service, said Gary Bishop, deputy director of the Strategic Outreach Directorate of the Army's Accessions Command.'Our target market is very comfortable with gaming activities,' so interacting with a graphically rendered guide comes naturally, Bishop said.Next IT Corp. of Spokane, Wash., developed Sgt. Star for the Accessions Command, building on applications originally used by the intelligence and law enforcement communities. The core technology is distinguished by the ability to understand natural language and to learn over time.Bishop is clear about the driver for developing Sgt. Star: 'Money,' he said. The cost of maintaining staff for live online chat sessions was growing too quickly to be supported in the long run, especially since online recruiters spent much of their time answering the same questions over and over.'About 60 percent of the questions were always the same ones,' Bishop said. 'So we began to look for a technology to help us out.'Maj. Bret P. Van Poppel, digital communications analyst for the Center for Accessions Research, called the GoArmy Web site 'absolutely essential' to the Army's recruiting efforts.'To call our marketing campaign anything but Web-centric would be a misnomer,' he said.'The Web site has always been on the cutting edge of technology' since its introduction in 1997, Bishop said.The site now contains about 15,000 pages and has long used streaming media. The live chat function was added seven years ago, and its use has grown steadily. It now requires a full-time staff of 35 to 40 persons. Because competition for active-duty soldiers is great, the work now is contracted out to civilian employees, usually retired military recruiters.Bishop said it became apparent about five years ago that the rate of growth of chat could not be sustained. It was the Energy Department's Pacific Northwest National Laboratory that pointed the Army toward Next IT's artificial intelligence.'The technology had been used by the intelligence and law enforcement communities,' Bishop said.'Our roots go back to when we were providing an application in the Internet Relay Chat space to understand humans,' said Patrick Ream, Next IT's vice president of marketing.The core technology was an application called Context IQ, which was used by unnamed agencies to monitor chat rooms and alert agents to suspicious activities. Context IQ provides an understanding of natural language.In early 2006 the company released Active Agent, a multichannel application that runs on top of Context IQ and responds to online users through text, voice and page navigation to answer questions and guide users through a Web site.It took about two years for the Army to get funding for the program. 'Once we got the funding, it took about nine months to bring Sgt. Star online,' Bishop said.Visitors to the Web site click on a link to launch Sgt. Star and type questions in a chat box. The sergeant answers both in text and with a recorded voice, and directs the user to the appropriate Web page for more information. The application is a natural for a generation that has been brought up on instant messaging.'When you put this application in front of them, they instantly know what to do,' Ream said.Unlike a typical search engine that produces a list of possible results for a query, Sgt. Star produces a single answer for each question. Jeff Brown, senior vice president of sales at Next IT, said that answer is correct 92 percent of the time. An impressive record, 'especially considering the breadth and depth of the Army's knowledge base,' he said.'What we're not doing is mapping 'this question' to 'that answer,' ' he said. 'That would be mathematically difficult, if not impossible,' because of the number of possible questions that could be asked.The key is giving the application the intelligence to understand the question as it is asked, and search for the right response from a library of possible answers.The first step in creating Sgt. Star was to develop the body of knowledge he would be expected to cover and create answers for the most commonly asked questions, said Paula C. Spilman, IT project manager for the Accessions Command.'We had a 60 percent solution off the bat,' she said.The next step was to develop the remaining 40 percent of answers that would be needed. For this, three recruiters were brought to Spokane to educate developers about the common questions from potential recruits.The application then was tested with focus groups in New York, Spokane and Phoenix to see how youngsters responded to it. At that point, Sgt. Star had most of the answers, but didn't always understand the questions, Spilman said.'So we had to close some holes there,' she said.By the time the sergeant was put into live tests early last summer, he was about 75 to 80 percent smart, Brown said. The Army used a 'soft launch' to give him a chance to learn a little more before a full rollout.'We had him tucked away about four pages deep, so we knew there would be lower traffic,' Brown said.With just a trickle of hits, 100 a day or so, the sergeant learned enough to move to prime time.'We were quickly promoted to front page,' Brown said, and Sgt. Star was officially introduced on the home page on Aug. 2.Sgt. Star learns through a process of regression testing that lets changes be made to his software without damaging previous work.When confronted with a question he has no answer for or does not understand, corrections can be made seamlessly. This 'learning' can be either automatic or manual. The Army has chosen to do it manually because an automatic process is more difficult to control, Ream said.'The Army wants to have a high level of predictability and repeatability,' with only one right answer to any question, he said.The new feature seems to be a hit with visitors to the Web site.'It's exceeded our expectations,' Van Poppel said. Visits have gone from about 500 a day to about 1,000, and the average length of a session has gone from about four minutes to more than 16 minutes. Only about 5 percent of the Sgt. Star sessions are referred to live chat, and the number of 'I don't know' responses has consistently dropped.'We have not started to reduce our staff yet' for live chat sessions, Bishop said. But he hopes to eventually be able to reduce it by 75 percent.The next phase of the project will be to let Sgt. Star out of his box to move through an animated 3-D world. Now, he operates in a flat Q-and-A model. Bishop would like him to be able to frame responses based on what he learns about his users.'He needs to be more contextually aware, and to respond based on what he knows about the person he is dealing with,' Bishop said.The Accessions Command will begin working with Next IT this year to advance their creation.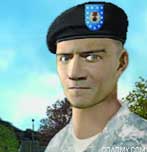 ASK THE SARGE: Young, tech-savvy males targeted by the Army are comfortable with virtual reality.
Next IT Corp. photo
What was the question?