NOAA's chemical info makes online CAMEO
Web site gives hazmat crews quick access to data on toxic substances.
Time saved can result in lives saved when there's a potentially toxic chemical spill.That's why the National Oceanic and Atmospheric Administration's Office of Response and Restoration has taken its CAMEO (Computer-Aided Management of Emergency Operations) Chemicals database online.Visitors to the CAMEO Web site, www.cameochemicals. noaa. gov, can quickly search a database of more than 6,000 chemicals. The database also contains more than 100,000 chemical synonyms.Each listing provides details on physical properties, health hazards and recommendations for firefighting, first aid and spill response. What's more, the database allows users to enter combinations of chemicals so the system can predict what hazards may arise when the substances mix.Although CAMEO, developed jointly by the Commerce Department's NOAA and the Environmental Protection Agency, has provided essential information to firefighters and other hazmat responders for 20 years, federal technologists were painfully aware of two major limitations.'We would do periodic updates of the database ' which could be fairly important changes ' and it was hard to push that information out to users,' said Dave Wesley, CAMEO project manager.'They had to first hear there was a new version, go to our Web site and download it and install it.' With the Web version, Wesley said, 'we're able to make changes to our back-end database, and it's immediately available to users.'CAMEO's other limitation was that some organizations that wanted to use CAMEO were constrained by security requirements. For example, the Coast Guard found that each time NOAA updated the database, the software approval process would have to be repeated before the program could be used on Coast Guard computers, Wesley said.With the Web version, 'we can make changes to the data, and they don't have to deal with the issue of installation.'There have been some other benefits of moving CAMEO Chemicals to the Web. Mike Miller, CAMEO program manager, said the Web version's search tools are more effective than those in the stand-alone version.'On the Web version, we've been able to prioritize results,' Miller said. 'That's been very popular with our users.'Miller said his colleagues also monitor user misspellings, so they can eventually offer to correct them and hasten the delivery of accurate results to users.CAMEO Chemicals has been averaging 30,000 to 40,000 unique daily visitors since the Web site went live in late February, Miller said.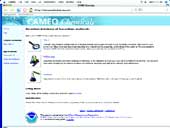 CAMEO'S ROLE: NOAA and EPA developed the site to provide information on more than 6,000 chemicals.