Whose Tube? Not the DOD's
DOD cuts off access to 13 social Web sites, but does that leave soldiers out of touch?
For military personnel, the Internet has been a lifeline. Members of the military can check in with their loved ones when they come back from patrol and watch videos of family occasions such as birthdays and graduations.But concerns over the ramifications of popular online venues have led the Pentagon to institute a Defense Department-wide ban on a baker's dozen social Web sites.'This recreational traffic impacts our official DOD network and bandwidth availability, while posing a significant operational security challenge,' Gen. B.B. Bell, commander of U.S. Forces Korea, explained in a May 11 memo to his troops.Thirteen Web sites, including MySpace and YouTube, are affected by the cutoff.The policy change was ordered by Lt. Gen. Charles Croom ' who serves both as head of the Defense Information Systems Agency and commander of Joint Task Force-Global Network Operations ' with the blessing of the U.S. Strategic Command, to which he reports. JTF-GNO is the organization responsible for the health and well-being of DOD's Global Information Grid, which serves as the basis for the department's network-centric warfare strategy.The move mirrors a policy of U.S. Central Command, which has blocked access in Iraq and Afghanistan to YouTube and MySpace since shortly after the invasion of Iraq.Tim Madden, a spokesman for JTF-GNO, said the Pentagon considered several factors before blocking the sites, including their popularity, their impact on bandwidth resources, the size of the files, the operational impact on resource allocation, network availability and security, troop morale, and the cost of doing nothing.The policy does not put the blocked sites off-limits to military personnel: They can access them using computers at home or at Internet cafes such as those set up in Baghdad and Kabul. But they cannot use DOD resources to do so.Retired Lt. Gen. Harry Raduege, Croom's immediate predecessor as head of JTF-GNO and now chairman of Deloitte and Touche's Center for Network Innovation, defended the block, pointing out that military personnel in combat arenas have always had to yield to the imperative of operational security. Letters from soldiers in World War II, for instance, were reviewed ' and edited ' by censors concerned about sensitive information.And there may be other security concerns.'When I was with DISA and JTF-GNO'we did a lot of traffic analysis,' Raduege said. 'We monitored and knew what a top 10 list would be [in a] highest malicious activity report. ' That is probably what DISA has done.'Nor is DOD ' which recently has made use of MySpace and YouTube as recruiting venues ' alone in its actions. Many federal agencies block access to selected Web sites: In a recent GCN poll, 64 percent of respondents said their agency blocked access to commercial e-mail, instant messaging and/or streaming video sites such as YouTube.Leta Deyerle, a spokeswoman at Army Knowledge Online, the Army's internal portal, said AKO can address many of the communications needs.'There are several collaboration capabilities' in AKO, she said, including e-mail, messaging and video. 'We like to encourage people to use AKO'because of the security.'And AKO, which is slated to morph into a DOD-wide portal, Defense Knowledge Online, recently expanded its 1.86 million-user base to include accounts for 140,000 individuals in other military agencies, Deyerle said.'The average daily e-mail traffic is around 5 million e-mails during the week and 2 to 3 million on weekends,' she said. 'That includes all account holders ' active duty, National Guard, Army Reserve, Department of the Army civilians, retirees, family members, joint unsponsored accounts and guest accounts ' in all locations.'AKO has its limits, however. A military spouse told GCN the Army portal was extremely slow and limited in its capabilities. And although Deyerle said that each account holder gets 50M of storage for a personal account plus 'unlimited' space through family readiness groups, that pales next to the 1G capacity offered by YouTube.It only took a day for the backlash to begin.Rep. Edward Markey (D-Mass.), chairman of the House Energy and Commerce Subcommittee on Telecommunications and the Internet, sent a letter to Defense Secretary Robert Gates on May 15 questioning the decision.'I fail to see how blocking these particular sites is consistent with achieving network efficiency,' Markey wrote. 'If network congestion was an issue, for instance, it is surprising that no bandwidth-intensive gaming sites are on the list of prohibited sites. ' Rationed bandwidth'would have been far preferable to the action the military has chosen to take, which has raised issues of censorship.'The Center for Democracy and Technology also expressed concern about the policy. 'The sites they're blocking are the most important, the most used by twenty-somethings to communicate with families and friends,' said John Morris, CDT's counsel.The debate is likely to continue. 'This was a careful calculation, and the process is ongoing; more sites could be added,' Madden said.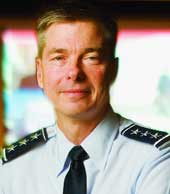 Offline: Lt. Gen. Charles Croom, whose responsibilities include DOD's Global Information Grid, ordered the cutoff of 13 social-networking sites.
File photo