Agency Award'Social Security Administration | Getting the bad news out faster
2007 GCN Award: SSA's Electronic Death Registration system delivers accurate records across state and private-sector lines.
Death is something most people don't like to talk about, but it's part of the business of government. Many benefits programs begin ' or end ' with the death of a family member. Government at all levels must keep track of who is no longer eligible to vote, pay taxes or receive entitlements. Public health officials, and medical researchers in general, pay close attention to who dies ' and where and how.[IMGCAP(1)]In general, the sooner the government finds out about a death, the better. That's why the Social Security Administration's Electronic Death Registration (EDR) initiative is good news.Until recently, the difficulty in getting the news about someone's death has been that the process is heavily dependent on filling out and moving paper forms. The attending physician, hospital official, medical examiner, funeral director and public health official all have forms to complete.All this form-filling takes time, as does shuffling the documents from place to place for more signatures and manually processing their contents.Transferring information from paper introduces errors that can take years to fix and create problems for government officials and the family of the deceased.The slowness of updating records often means that payments keep going to people who are no longer alive ' and someone often cashes those checks.This was all old news in the 1990s, when SSA and other federal agencies began considering ways to simplify and expedite the process of registering deaths.The basic idea was to create an online, computer-based process that could take advantage of SSA's national records of names,birthdates and Social Security numbers.'Social Security has a deep interest in collecting and verifying correct information about deaths to determine new and continuing eligibility for benefits,' said Brian Cronin, director of the Office of Payment Policy and project director of the Electronic Death Registration initiative at SSA.Other agencies that helped start the initiative include the National Association ofPublic Health Statistics and Information Systems (NAPHSIS) and the National Center for Health Statistics (NCHS), part of the Centers for Disease Control and Prevention.[IMGCAP(2)]Because the required information is in the hands of state officials until it's passed on to the federal government, the EDR initiative operates as a coordinator and facilitator for the state-level efforts to bring death information online. Each state creates its own program for dealing with death data electronically.The effect of the initiative has been obvious. 'The new process is quicker in gathering and distributing information, more accurate in the information collected and easier for all concerned,' Cronin said.Using the new process, a death notification reaches SSA within five days ' far faster than the previous paper-based process, which could take months.The new process is Internet-based. NAPHSIS, an association that represents all the states and the Bureau of Vital Statistics Registrars, provides information on implementation at its Web site.Valid users of the system enter data through the Internet to SSA. On its end, SSA matches the entered data with record files to identify the deceased.Users receive confirmation of the identity and can add information. Doctors, hospitals, funeraldirectors and others have information to contribute, from the death notice to details about the cause of death.To satisfy legal requirements for signatures, users can employ electronic signatures secured by a public-key infrastructure.In addition to the federal agencies mentioned, many national organizations support the EDR initiative, including the National Funeral Directors Association, American Medical Association, National Coroners Association, American Hospital Association and National Association of Medical Examiners. The members of these groups benefit from the initiative, saving time and costs.EDR provides guidelines to individual states and suggestions about best practices. Technical assistance comes from the initiative and from other agencies and participants.For example, California is making the source code of its CA-EDRS software available to other states at no cost. 'There's a real sense of collaboration among participants, who all benefit from the process,' Cronin said.Sixteen states, New York City and theDistrict of Columbia use EDR. More than a dozen have the process under development, and nine more are planning theirimplementations.Each state is putting the process into practice and paying for it independently.This kind of participation doesn't just happen: The EDR team works hard with the states. 'We're really at their mercy,' Cronin said, 'so we do a lot of marketing to get buy-in from everyone.'Information flows from each state to SSA, where the agency can use the data to begin payment of benefits to survivors and suspend payments to deceased beneficiaries.SSA passes the information to the Commerce Department's National Technical Information Service Web site, which shares it with other agencies. These include benefit-granting agencies, such as the Veterans Affairs Department, and public health organizations, such as NCHS.The EDR group ' about 20 people ' maintains relations with all the states to coordinate their programs and keep up the forward momentum. 'We plan to have over 30 jurisdictions completed by 2008,' Cronin said.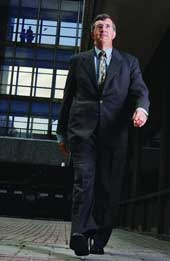 RIPPLE EFFECT: Brian Cronin says Electronic Death Registra- tion's fast, accurate processes benefit federal and state agencies and national organizations.
Zaid Hamid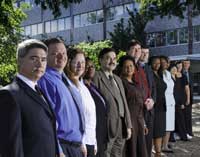 TEAM WORK: The Social Security Administration's team for the project created a Web-based system that makes use of a public-key infrastructure. Team members also worked to get state organizations involved.
---
For the complete list of the 2007 GCN Award winners, click here
---
Edmund X. DeJesus (dejesus@compuserve.com) is a freelance writer in Norwood, Mass.