USPTO does its homework
2008 GCN Technology Leadership Award winner Deborah Diaz helps give agency's teleworkers the tools to collaborate.
When Deborah Diaz took over the job of deputy chief information officer at the U.S. Patent and Trademark Office a little more than a year ago, she was faced with providing information technology services to a far-flung workforce that was growing by leaps and bounds.Diaz said more than 40 percent of USPTO's 10,000 employees are participating in the telework program. And it's not just a matter of staff members checking e-mail messages. Eighty-six percent of the office's trademark and patent examination attorneys use the program, Diaz noted, and 'a lot of the time, they're examining patents from the 1800s, or they have to search patents worldwide. They're dealing with things of more complexity and greater scale than, say, someone who is doing administrative duties.'Meanwhile, the numbers are growing rapidly. USPTO adds 1,200 patent examiners each year, resulting in a 60 percent increase in teleworkers during 2007.Her team has responded to the challenge with 17 telework initiatives and three pilot programs. The most recent major effort is the Patent Hoteling Program. Launched in 2006 with the participation of 500 patent examiners, the program combines a suite of applications and services designed to support the examiners working remotely with convenient work spaces at USPTO's campus in Alexandria, Va.The agency requires teleworkers to subscribe to Internet service with a minimum of 2 megabits/sec download speeds. Although teleworkers pick their own Internet service provider, they are reimbursed for 50 percent or more of the cost and trained to perform their own service troubleshooting.USPTO maintains a virtual private network, virtualized servers and a suite of applications to support employees working at remote locations. 'We've integrated a lot of our collaboration tools and are offering up a more real desktop experience,' Diaz said. Her team is also using pilot programs for a number of new technologies to further integrate off-site workers, including instant messaging, wikis, blogs and a number of Web 2.0 technologies.The results have been extremely positive, Diaz said. 'By reducing commuting time, yes, it contributes to green initiatives, but it also produces the caliber of workforce where you get the best and the brightest,' she said. 'You get people energized about doing their work.'Telework isn't the only challenge for Diaz. Her staff 's other initiatives include nurturing growth in the electronic business systems of EFS-Web, an encrypted patent filing system, the Trademark Electronic Application Submission system, and smoothing electronic document exchange with USPTO's international partners.Her office has hired 120 IT workers during the past year, and she has set up a new program management office and a quality management office.'What our office is all about is improving the quality, the timeliness, the cost-effectiveness,' Diaz said. 'In doing so, you really have to streamline a lot of your business processes. If you can integrate your electronic systems to fully promote end-to-end processing, that's where you're going to not only save money but gather efficiencies.'Before she joined USPTO, Diaz was CIO of the Homeland Security Department's science and technology division. She also led the effort by the President's Management Council to create the first governmentwide electronic Web portal.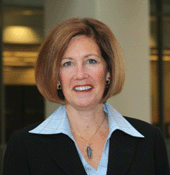 2008 GCN Technology Leadership Award winner Deborah Diaz is the deputy chief information officer at the U.S. Patent and Trademark Office.
Submitted photo
---
MORE ON THIS TOPIC: 2008 Technology Leadership Awards home page
---