Agencies move to boost defenses
Lothar Harris was in his office in Arlington, Va., across Route 1 from the Pentagon, when disaster struck.
Lothar Harris was in his office in Arlington, Va., across Route 1 from the Pentagon, when disaster struck.'I saw this huge ball of flame rise up from the area by the heliport in a matter of minutes'smoke, debris like aluminum foil, insulation raining down,' said Harris, deputy director for policy automation in the Office of the Undersecretary of Defense Policy.'I can smell it. Acrid,' he said shortly after the explosion.Harris began calling offices in the Pentagon. 'I said, 'You guys get out of there. The Pentagon has been bombed.' 'What Harris didn't know then was that it wasn't a bomb.It was a hijacked American Airlines Boeing 757 airliner that had blasted the Pentagon, demolishing a massive section of the building's west side.The suicide attack on the Pentagon occurred shortly after terrorists crashed two other commercial jets into the World Trade Center in New York, destroying the center's 110-story twin towers.As this issue went to press, the death toll was still mounting but was estimated to be in the thousands in New York and between 100 and 200 people at the Pentagon.Damage at the Pentagon included part of the recently renovated Wedge 1, the first phase of a 14-year, $1.2 billion upgrade to the building ().Six agencies had offices in the World Trade Center, in buildings No. 6 and No. 7 near the towers: the Bureau of Alcohol, Tobacco and Firearms, Customs Service, Defense Department, Equal Employment Opportunity Commission, IRS and Secret Service. A total of about 2,800 employees worked in those offices.Spokespeople for the agencies said it appeared their employees got out safely, although a couple of agencies were still trying to account last week for all of their people.An ATF spokeswoman said the bureau had relocated its field office outside of New York, but would not specify where. A Secret Service spokeswoman said plans for relocating its office were not finalized.The terrorist strikes sent waves of alarm through the government systems security community, already edgy after a series of costly cyberattacks this year.In response to the attacks, federal officials are likely to place new, intensive emphasis on cybersecurity to protect against terrorist assaults on the government's information infrastructure.'When a shock like this happens, people reach out and say, 'How can we do a better job of protecting cybersecurity?' ' said Alan Paller, director of the SANS Institute of Bethesda, Md. 'There is no red line that stops [terrorists]. There's nothing they won't do.'Paller said he expects several major initiatives to come out of the tragedy.'I think people will start taking protective actions more seriously,' he said. 'We are very careful with the maintenance of aircraft. We're not very careful with the maintenance of computers. Things on the back burner will get more attention.''Increasing cybersecurity is a must with actions like this,' said John Pescatore, research director for network security at Gartner Inc. of Stamford, Conn.Meanwhile, agencies are operating under heightened security that extends protection to both workers and information systems. 'If employees don't come to work that day or the next day, there's virtually no loss'the essential elements of Treasury will continue on,' said an information specialist at the Treasury Department.In addition, Treasury has a separate site in the Washington area from which workers can access the department's critical information systems, the information specialist said.The Federal Aviation Administration called off all civilian flights until late last week.At NASA headquarters in Washington, senior managers were in constant meetings last week to determine what further responses were warranted. 'We're waiting to hear if there are going to be any additional steps,' said Brian Dunbar, NASA spokesman.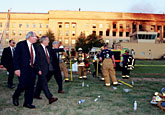 Defense Secretary Donald H. Rumsfeld, center, shows Sens. Carl Levin (D-Mich.), left, and John Warner (R-Va.) the damage at the Pentagon, which included part of the renovated Wedge 1 (below).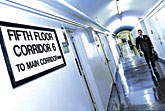 A day after the attacks, President Bush called feds back to work.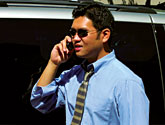 David Luu, a network administrator for Sen. Peter Fitzgerald (R-Ill.) phones home to assure his family after Senate offices were evacuated.
Attacks will likely prompt increased systems security
see story, below
Locking down
GCN staff members Patricia Daukantas, Susan M. Menke, Dawn S. Onley and Preeti Vasishtha contributed to this report.