Norm Willox | New depths in data
In many ways, the LexisNexis Group of Miamisburg, Ohio, was a pioneer of the information revolution. For more than 30 years, the company has offered electronic access to legal documents, news stories and other sources of data.
Willox: We're the largest information company in the world. It takes a lot of skill to house terabytes of data and create knowledge from [these sources]. How do you get data from one point to another? Well it's all about complex licenses, protection of intellectual property, appropriate use and those kinds of things. So it's that kind of expertise we leverage on the government side.Willox: If you think about LexisNexis' legal research, it seems so easy. That's how good the technology is. We do analytics to each layer of the information supply chain. For instance, there are the analytics in extracting, transforming and loading the data. We also fuse the data, link it together.It sounds like an easy thing to do, but it's hard to do with a high degree of reliability. We have over 35,000 data sources and over 16,000 databases that we manage. That data must be constantly refreshed and updated, and as that data is refreshed it must be fused. In the last five years, we've spent almost $1 billion improving the capability of that technology.Willox: They're great software programs, but at the end of the day someone needs to make a decision. So it is incumbent upon us to not only integrate and fuse all the data [and do] the analytics, but also meet all the policy and privacy guidelines. So, all that is combined in one integrated application.This is part of our transformation. LexisNexis is going from a products company to a solutions company. Now that our technology has gotten that much more robust, we can ask what your mission is [and then offer] the right process to get you there.Willox: We have over 6,000 customers at all levels: federal, state and local agencies. We support the law enforcement community ' the biggest area is in solutions. I'll give you one example. We have a sexual predator technology. To be able to solve that problem, we've got to integrate databases together, [we've] got to monitor and manage information about individuals who have been identified as sexual predators. And if they go bad, we have to be able to find them very quickly. So we deploy a technology that does that. It is a layered approach, since you have a lot of people involved in that mission.Willox: Because of the complexity of all the policy issues around how government uses data, agencies are coming to us more ' we have the core competencies around sharing data. We're actually finding that more people are coming to us and saying, 'If you guys go acquire this data and run it through your system, and you'll sign off on it, then we'll enter into a trusted relationship with you.' And that's a lot of work we do in the government here.We have a government industry and regulatory affairs group that works with the stakeholders and leaders ' not just about the governments but the advocacy groups. There are so many regulations and rules out there, that the reason [customers] come to us is that they can trust us to acquire and share the data in compliance to the rules, the regs and the laws.Willox: Technology empowers the field. It used to be the librarians who did all the research. Now the information is on the desktop of the lawyers ' the decision-makers.We add a lot of anlytics to the data. If I'm a lawyer and I'm researching a problem ' say, asbestos ' I want to know every case that was involved in that. Then I can go in and look at those cases and they are all linked together. It's not quite like a search engine on the Internet that just pulls everything and you're not sure of the quality and accuracy of the data.Willox: It might be every case, but it might be organized from Supreme Court level down, so you can see how the decision process was made and how those cases progressed. And it tells you what the key issues were so you can map them to your key issues. You can go through a lot of data very quickly and can get those nuggets to build your argument for a case, or write a brief.Willox: That's how Lexis started. Thirty years ago, we were a republisher. We collected all the data and put it in one place, and you had to figure out what to do with it. So we [worked] on the analytics and the quality of data to get more effective.To us, the Internet is another nice data source, but we weight all of our data sources a certain way, and people who use our data want to understand the source, the quality and the effectiveness of the source.While data from the Internet may be a good lead for an intelligence person, you wouldn't want to use that data to make a decision on whether or not somebody should be arrested.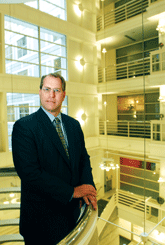 Norm Willox, CEO of LexisNexis Advanced Government Solutions
Rick Steele
In many ways, the LexisNexis Group of Miamisburg, Ohio, was a pioneer of the information revolution. For more than 30 years, the company has offered electronic access to legal documents, news stories and other sources of data. Now LexisNexis, a unit of the Reed Elsevier Group publishing empire, wants to sell its data-handling expertise as well.

Earlier this year, the company launched a new unit, called LexisNexis Advanced Government Solutions, that would offer intelligence, investigative and identity verification systems and services. GCN spoke with the CEO of the new group, Norm Willox, to find out more about what the company can offer and how it plans to set itself apart from other integrators and business intelligence software providers.
GCN: Most people think of LexisNexis as a provider of legal decisions and news stories. What services do you offer for government?GCN: What sorts of analysis can you do?GCN: What is the difference between the analysis you offer and packages from business intelligence software companies, such as SAS and Business Objects?GCN: Can you name any federal clients?GCN: Washington Post reporter Robert O'Harrow has written about how agencies are increasingly using commercial data sources of personal information, such as LexisNexis. What does LexisNexis do to ensure its government customers won't get called out by the privacy advocate groups for this practice?GCN: How has electronic delivery of information changed the legal field?GCN: So you don't just get all the cases about asbestos with your service?GCN: Do you feel pressure from free, Web-based news aggregators and search services such as Google, which just let the users sort out the results?