FOSE 2007 sessions to put IT's future in focus
Leaders in the federal technology community will present a comprehensive and detailed survey of IT opportunities and trends March 20-22 at FOSE 2007 in Washington.
Leaders in the federal technology community will present a comprehensive and detailed survey of IT opportunities and trends March 20-22 at FOSE 2007 in Washington.The annual gathering of government technology leaders and their industry partners will showcase high-level perspectives on the trends driving IT, via keynote presentations, floor displays and conference sessions on dozens of specific issues. (A detailed look at new technologies at FOSE will appear in the March 19 issue of GCN.)FOSE 2007's keynote addresses will target some of the most powerful drivers in government IT, such as the demand for wireless systems and the imperative for their security. Mike Lazaridis, president and co-CEO of Research in Motion Ltd. of Waterloo, Ontario, will join Gregory Brown, president, networks and enterprise, for Motorola Inc. of Schaumberg, Ill., in keynote addresses on opening day.Subsequent keynotes will outline IT perspectives from the Pentagon, such as that presented by Paul Brinkley, deputy undersecretary of Defense for business transformation, and by Air Force secretary Michael Wynne, on March 21st and 22nd, respectively.Special-event keynotes (by invitation only) include Defense Information Systems Agency director Lt. Gen. Charles Croom, Office of the Director of National Intelligence CIO Dale Meyerrose, and the General Services Administration's administrator, Lurita Doan.The 18,000 government technologists expected at the Washington Convention Center for the 31st annual FOSE will size up offerings from some 550 exhibitors and mingle with roughly 5,000 industry professionals. Military, government, government contractor and educator attendees can register free at FOSE.com.'Industry has responded rapidly to the federal government's burgeoning need for innovative technology solutions, and we will be showing off their new products at FOSE,' said Bill Howell, vice president and general manager of 1105 Government Information Group. More than 150 new products will roll out at the event.Show floor theater presentations featuring federal and vendor technology leaders will address specific agency needs.The Data Center Theater will feature detailed descriptions of how specific products perform in the areas of data connectivity, storage, data integrity and component housing. For example, Jim Grant, air account manager for Emerson Network Power of St. Louis, will describe designs that reduce data center energy consumption.The DOD Theater will offer eight presentations on topics such as the Pentagon's identity management strategies and the department's wireless systems technology. Paige Atkins, director of the Defense Spectrum Organization, is set for a session describing the role of spectrum management in the Global Information Grid.The Government Business Solutions Theater will present demonstrations and descriptions of specific methods for simplifying and improving services. In one presentation, telework-planners from the Commerce Department's Patent and Trademark Office will discuss technologies that support the offsite workforce.The Motorola Enterprise Mobility Theater will include 11 training sessions on the health care, homeland security, law enforcement, Defense and supply chain areas, among others.The Secure Fortress Theater will provide interactive discussions of homeland security, cybersecurity and information assurance strategies. Among the 10 sessions will be a description of biometrics in the U.S. Visitor and Immigrant Status Indicator Technology program.The Small Business Theater will afford federal technology buyers the opportunity to meet industry leaders and evaluate advanced systems for procurement compliance and mission success.Nine exhibitor training tracks will provide an additional focus for professional development. This will include 12 sessions on acquisition strategies presented by GSA, as well as intensive NASA training on the Scientific and Engineering Workstation Procurement program.Microsoft Corp. has scheduled five training sessions ranging from Section 508 accessibility compliance to a full-day conference for Microsoft .Net public-sector software developers.Hewlett-Packard Co. will present 21 sessions including workshops on visualization, security and advanced printer systems.FOSE 2007 also features the TECHEXPO Career Fair, which will convene more than 60 employers to provide professional opportunities for government sector technologists.All this and hockey, too. The Washington Capitals' mascot, Slapshot, will patrol the show floor, greeting attendees and sparking fan support for an autograph session with a team member. Look for special ticket offers as the Caps take on the NHL's Penguins, Panthers and Sabres. Score!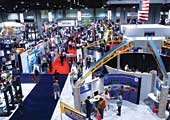 On the program