Standard configuration to give agencies a real test
Once OMB and Microsoft establish a standard Windows desktop configuration, agencies will face their toughest test.
Once the National Institute of Standards and Technology, Microsoft and other federal and private-sector experts finish developing the test image for the standard Windows desktop configuration for XP and Vista, agencies will face their toughest test ' literally.Public- and private-sector experts say assessing agency applications against the baseline will mean making tough decisions on whether mission-critical systems need to be changed.This also includes making choices about whether to shut off certain Internet access ports that key software programs need, whether to ask the Office of Management and Budget for waivers to modify core security settings and how to balance need against risk.One agency information technology manager, who requested anonymity, said the agency already is facing a similar situation that will be a microcosm of things to come ' trying to close off a port but getting a 'dribble of people who are using the port asking for it not to be turned off.''What do I do about the 15 good reasons not to shut off a port?' the manager asked. 'I'm faced with security and operational issues that don't always agree. And with Vista and XP, it isn't just ports but routines in the kernel that can't be used anymore.'Network administrators will be able to start testing the secure Windows desktop image by early August, when NIST releases a virtual PC and virtual security settings, said Tim Grance, NIST's manager of systems and network security for the information technology lab.NIST also will release a Security Content Automation Protocol (SCAP) that describes in Extensible Markup Language the configuration guidance and benchmarks.'With the virtual version, agencies can test the settings more easily,' Grance said. 'If it breaks, no problem, you just start over. It really facilitates rapid testing for individual operational environments.'The initial testing version's release will come almost three months after OMB's April 20 deadline.NIST and Microsoft officials attributed the delay to a host of issues, including the complexity of the development, and they said the holdup likely will hamper agencies' chances of meeting OMB's February 2008 deadline to implement the secure settings.'It is not just desktop security settings, it goes way beyond that,' said Mark Belk, Microsoft federal's chief technology adviser for civilian agencies. 'Once the settings are enacted, the entire supply chain will have to operate on these settings. Preparing for that is one of the reasons for the delay.'Clint Kreitner, president and chief executive officer at the Center for Internet Security, said NIST and its partners are trying to do something in a few months that took the Air Force years to accomplish.And OMB couldn't just take the Air Force's standard settings and make them the baseline for the entire government, Kreitner and others say.Belk said OMB had to deviate from the Air Force settings and then design a testing program and other functions. 'A lot has been done in three months that will take a lot of work out of the equation for agencies.'Grance said developing the virtual PC and testing agency applications against the settings is expected to save agencies millions of dollars.'Agencies just need to log on and install the apps,' he said. 'They will not have to worry about building a clean version of XP or Vista and installing the security settings.'Grance added that agencies can run specific software on the operating system to see how it works.'If you engage all security features in XP or Vista, you are not going to find any apps that work,' Kreitner said. 'Agencies will start with the standard core configuration image and figure out what changes they have to make to get the legacy applications to function.'But the agency IT manager, who believes going to a standard configuration is key to improving cybersecurity across the government, said testing applications will be more complicated than imagined.The manager said that, with no funding or resources, most agencies do not have a lab, and if a major system needs to be changed, there isn't money for that, either.'Do you blow up a $60 million system because it will not run on the new configuration?' the manager asked. 'You want to shut down as little as possible, but this is a nonstandard world, and that is difficult.'Belk said part of the delay was because of discussions about what he called controversial settings, such as password length, NIST algorithms, device drivers and some procurement issues.'We had to limit the device drivers to those that were signed and tested only,' he said. 'The driver would have a government logo that it has passed a certified test. Then it is given a hash to allow installation.'In addition to the virtual PC, Microsoft and the Homeland Security Department's U.S. Computer Emergency Readiness Team are developing a software patch process that would ensure the desktop baseline settings are not changed.'The government wants to augment its current security bulletin to include a secure desktop configuration statement of testing,' Belk said.'If a commercial patch is published,' he added, 'there would be some testing to ensure the patch doesn't interrupt the settings, and if it does, the agency would have to deal with it.'Microsoft also plans to offer deployment services as a part ofits enterprise license contract.Agencies will not deploy the image until it has been tested in its network environment. Once agencies create their deployment images, Grance said, network administrators will have to test them to make sure they meet the baseline settings or obtain a waiver from OMB if they do not.That is where the SCAP comes in, Grance said. Agencies and vendors can read the XML schema and check their applications against the deployment image.Finally, deployment won't be that difficult because of all the testing agencies did beforehand, Grance added.'Agencies will be able to download a group object policy and push it out to users through Active Directory or other similar programs,' he said.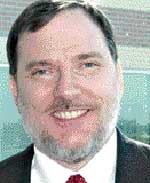 Agencies just need to log on and install the apps. They will not have to worry about building a clean version of XP or Vista. ' TIM GRANCE, NIST
Glimpse of the futureAnother way Patch work