Craig Schmugar | Vulnerabilities 2.0
Since becoming a threat researcher for McAfee's Avert Labs, Craig Schmugar has analyzed malicious software and potentially unwanted programs, developed virus definition files, created virus descriptions, and invented antivirus-related technologies.
Since becoming a threat researcher for McAfee's Avert Labs in 2000, Craig Schmugar has analyzed malicious software and potentially unwanted programs, developed virus definition files, created virus descriptions, and invented antivirus-related technologies. He has discovered and named hundreds of viruses and Trojans, including the infamous Mydoom and Sasser. During the past few years, Schmugar has seen the trend in information technology security threats shift from high-profile, high-volume attacks to more targeted, under-the-radar attacks, while motivation has shifted from bragging rights to financial gain. Although the profile of the attacks may be lower, the stakes continue to grow, and security administrators are finding that traditional signature-based tools no longer are adequate for protecting networks and applications. We are just now starting to see some more selective targeting. Typically, attacks in e-mail were often blasted to many people within an organization, whereas now we are starting to see C-level executives targeted, a continuation of the low-noise threats which we have been seeing for some time, trying to keep them out there longer. In Web compromises, we are seeing more examples of automation to inject malicious code into every page that a Web server has access to. It challenges the whole concept of trusted sites. Secondary targets are being used more, so maybe instead of someone directly going after your bank account with a phishing attack, they might go after your MySpace account or something that is likely to have less repercussion for the attacker. People might not be as much on their guard for phishing attacks against something like a networking site, but it is likely that a significant percentage of credentials used on these sites would also be used elsewhere. That is a challenge for a lot of organizations. Having good business policies in place and controls that make it more difficult for people to experiment with and adopt applications that might put the environment at risk can help. The other side of that is that the organization needs to have some flexibility and responsiveness to the needs of their users. When people are finding a business reason to have a new application, there needs to be some ability to do research and find a tool that can satisfy everybody and creates less of a security risk that can be run in a more controlled manner and be monitored; something that can be run on the IT organization's terms. There are tools that end users will find useful in their day-to-day work without thinking of the security side. Google Desktop is one example, or desktop search tools in general, depending on how they function. Yes, it might make it easier for the user to access data more quickly, but it could potentially allow hackers to access it more quickly. Web 2.0 applications where the user base en masse is adding content to the site can pose a concern, [as can] sites such as Second Life. There is a sense of what is old is new again, such as parasitic malware coming back or a rise in targeting USB drives instead of network drives. If the malicious code is run on one box that has a USB stick in it, it will copy itself to the USB stick so that when it is put in another box it could autorun again. A lot of these newer devices that have wireless capability don't have to use that wireless access to be connected to the network. If it's a USB stick that has no networking ability at all, when you put that in a box on the network, code can run from there to the network. It is a valid concern. That is not to say there are widespread attacks. Numerous and effective proof of concepts have been publicized. We know there are weaknesses. How frequently those are being exploited are less significant than a lot of other things. For an organization that was using the technology heavily, it would be higher up on their radar. There are lots of different threats out there, and RFID would be hard to place above a lot of these other concerns. People have been trying to poke holes in it, with some success. There have been a fairly low number of vulnerabilities disclosed for it. It is early in the adoption phase. But on the other hand, the security improvements have made it more resilient. Out of the box, it is configured to be more secure.Whether the number of vulnerabilities we are seeing is a direct result of that is unclear. In all likelihood, yes. On the other hand, we have seen some vulnerabilities and we're likely to see more. We didn't see the same explosion of attention for Vista that we are seeing for the iPhone; with beta releases and people getting early looks at it, it was a more drawn-out process. There will be periods when researchers focus attention on specific areas within Vista when attention is drawn to it. Nothing really definitive. There have been a couple of passwords that have been cracked to gain root access, but at this point, I haven't seen anything that people have been able to do with that password. People are trying to unlock the phone so they could potentially use it on other carriers, and one of the hurdles there is the activation process that requires iTunes. There has been some progress made in trying to spoof that iTunes activation process. At this point I'm not aware of anything conclusive, but clearly there are a number of people looking at it and making some headway.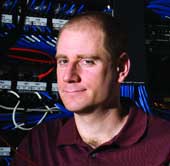 There are tools that end users will find useful in their day-to-day work without thinking of the security side. - Craig Schmugar
WPN Photo by Leah Nash
GCN: What significant shifts have you seen recently in threats?SCHMUGAR:GCN: New functionality, such as instant messaging or wireless networking, often is introduced into an enterprise informally and becomes a business application by default rather than by plan. How can enterprises protect themselves against the vulnerabilities created by this process?SCHMUGAR:GCN: What new applications or functionalities should administrators now be paying attention to?SCHMUGAR:GCN: What are the new vectors for malicious code in terms of new endpoint devices that people should be worrying about now?SCHMUGAR:GCN: Is radio frequency identification a valid security concern at this time?SCHMUGAR:GCN: Windows Vista has been out for a few months now. How is it holding up?SCHMUGAR:GCN: Have threats emerged from this attention to the iPhone?SCHMUGAR: