Tools to get desktops in line
OMB releases a set of tools to help with establishing standard Windows desktops.
Agencies should get their configuration experts ready.Now that the Office of Management and Budget released a set of tools to implement the Microsoft Windows standard desktop configuration (SDC), technical and repeatable experience is key to success.Experts suggest agencies set up a SWAT team to go around to each part of the agency to test and install the baseline operating system.OMB finally released the SDC last week and the tools to implement it after nearly a three-month delay. The tools include a virtual machine that will let agencies test their software against the standard configuration.The downloadable software (csrc.nist.gov/fdcc/) is a virtualization container with either a full implementation of Windows XP Professional Service Pack 2 or Vista. Both versions are configured to OMB's Federal Desktop Core Configuration. Agencies can install their own software within the virtual instance of Windows to check and correct incompatibilities.'Agencies need to set up SWAT teams and plan for this, using what the Air Force learned and what Microsoft described in the tools,' said Alan Paller, research director at the SANS Institute. The Air Force deployed a standard configuration for Windows XP last year.'The SWAT team would show all network administrators how to run tools, and the administrators should sit next to them as they run the tools,' he said.Paller said the tools are difficult to use the first time but get easier with each subsequent use, which is the reason for a SWAT team that will test and implement them repeatedly.In addition to the test copies, the FDCC Web site also includes technical information and a section of frequently asked questions.The National Institute of Standards and Technology, the Defense and Homeland Security departments, and Microsoft collaborated to develop these virtual machines.'OMB, NIST and Microsoft took all the uncertainty out of implementing a secure desktop and provided step-by-step guidance to help test and implement the SDC,' Paller said. 'They announced tools that will monitor your system to find out where the problems with your applications will arise. It also provided tools that test to see if your system is in compliance and tools that fix applications so most of them don't break. It was really a great day.'In March, OMB called for agencies to use a central configuration for Windows desktop computers by Feb. 1, 2008, to improve security and reduce maintenance costs.In addition to having these virtual machines for testing, agencies will also soon have the Security Content Automation Protocol (S-CAP), a NIST-developed protocol that describes in Extensible Markup Language the configuration guidance and benchmarks.'Your agency can now acquire information technology products that are self-asserted by information technology providers as compliant with the Windows XP and Vista FDCC and use NIST's S-CAP to help evaluate providers' self-assertions,' wrote Karen Evans, OMB's administrator for e-government and IT, in a memo announcing the release of the tools. 'Information technology providers must use S-CAP-validated tools, as they become available, to certify their products operate effectively under these configurations, and agencies must use these tools when monitoring use of these configurations.'Microsoft plans to make images of an FDCC-configured Windows available for download on its own site.'The first thing agencies need to do is meet with their head of procurement and say, If you don't get the proper language into your contracts we will have massive pain to implement the SDC',' Paller said. 'The second thing is find a way to tell all suppliers that you cannot buy anything if they don't provide certification. That is what will take the pain away over time.'He said agencies should then run the monitoring program on a few apps through the virtual machine to figure how it works. 'That is SWAT team training,' he said.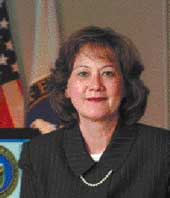 QUALITY TESTING: OMB's Karen Evans directed agencies to use NIST's Security Content Automation Protocol to evaluate products for compliance.
Photo by Matthew Borkoski