HSPD-12 gets a fair deal
2008 GCN Technology Leadership Award winner Mike Butler draws on ID card experience.
Mike Butler of the General Services Administration credits good fortune for a lot of the success he has had in federal technology. 'I have always been lucky,' he said.Rather than relying on blind luck, Butler's career exemplifies the adage that luck favors the well-prepared.Butler's success in bringing civilian agencies into compliance with Homeland Security Presidential Directive 12, which requires agencies to issue smart identification cards to federal employees and on-site contractor employees, grew out of his 35 years of technology management.Butler's familiarity with credentialing programs started with an early Navy Department program to provide electronic ID cards. That Navy program became the inspiration and model for the Defense Department's massive Common Access Card (CAC) program, for which Butler also worked.Butler shared that technical expertise with civilian agencies when he became responsible for securing rooms where they house HSPD-12 enrollment terminals and related equipment. The HSPD-12 budget provided only $3 million for that task, a sum that would not cover the cost of renting space for dozens of enrollment centers.'We asked the partner agencies themselves to donate the rooms where this equipment would be stored and used,' Butler said.A similar technical challenge for the HSPD-12 program arose as the small GSA team asked agencies to connect the enrollment stations to their networks.'We are a foreign agency' to the participating organizations, Butler said. 'They are not used to having an agency come in and put a machine on their network.'Agency concerns included how attaching the HSPD-12 enrollment stations to their networks might affect their Federal Information Security Management Act compliance grades from the Office of Management and Budget.Butler and his team overcame that problem by drafting a detailed agreement setting forth the enrollment stations' network transmission protocols and security measures.The resulting interconnection security agreements provide for efficient HSPD-12 equipment operation while preserving the agency networks' integrity.'We signed about 40 or 50 of those agreements,' Butler said.However, bringing the HSPD-12 program to fruition still requires agency managers to learn the technology that underlies the massive project.'People don't [immediately] understand the technology of the HSPD-12 program,' Butler said. 'It is a Web-based service, but it is more than that. It has an additional [large and pivotal] back-end element as well as a smart card that links to the other components.'The enrollment process itself adds an additional level of mandatory technical requirements that participating agencies and employees must adopt.Butler drew on his experiences with the CAC project and the knowledge of other DOD employees with credential project backgrounds. 'I said, 'There are people who broke this code five years ago,' and we brought them in,' Butler said.'When I was at DOD, we went through many of these same problems that involved the back end,' Butler said. 'Now that we have seen them before, we know where to look [for answers]. It is technology transfer.'An indicator of the program's success came recently in the form of a request from a small agency that was not required to provide HSPD-12 cards to its employees.'I met with the agency director, and he told me that the only proof the agency employees had that they worked for the federal government was their building passes,' Butler said. 'He made it clear that providing HSPD-12 cards to them would help provide the esprit and motivation that comes from being a federal employee.'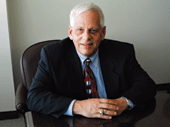 GSA's Mike Butler is is one of the 2008 GCN Technology Leadership Award winners.
Emily Barnes
---
MORE ON THIS TOPIC: 2008 Technology Leadership Awards home page
---