Raising the bar at USPS
2008 GCN Technology Leadership Award winner John Edgar guides delivery of inventory, vehicle tracking systems.
As manager of the U.S. Postal Service's Network Operations Business Solutions portfolio, John Edgar is responsible for delivering all information technology services to USPS' vast domestic and international transportation, logistics and mail processing groups. This includes developing applications; deploying infrastructure; and coordinating computer operations, user support and customer interaction for more than 60 production systems and development projects. Not bad for someone who didn't start in IT.Edgar's initial government experience was on the vendor side, which he said taught him some worthwhile lessons. After receiving a bachelor's degree in industrial engineering from Lehigh University, he joined contracting services firm PRC, assisting the Navy's Facilities Engineering Command. During his five years there, he worked for Allan Bellacicco, a former naval officer who taught him the fine points of client relations skills. 'People skills are often more important than technical skills,' Edgar said.His first management role with PRC was on a contracting assignment, a joint venture of the Transportation Department with major U.S. shipping companies. The goal was to improve cargo-handling methods and increase efficiency to reduce cost and boost competitiveness.Here, Edgar gained experience with tracking systems using bar codes and radio frequency identification tags while coordinating teams from different government and commercial organizations. That experience became the foundation for the collaborative approach to problem-solving that continues to serve him well.In 1995, Edgar put his experience with bar code processing to good use on a consulting assignment at USPS. He soon began leading the application development of their package-tracking system. 'It's great to see the impact of what you do reflected in the daily delivery of packages to our customers,' he said.Edgar joined USPS full time in 2001 as manager of eBusiness Infrastructure and lead the application development and operations of USPS.com and the Postal Store online sales Web sites. After his arrival, online customer usage and revenue increased dramatically, winning USPS several industry awards.Next, he implemented the national Surface Visibility System, which collects tracking and management data on mail moving by postal surface transportation. He led the delivery of IT services, including the first widespread deployment of wireless bar code scanners in U.S. mail processing plants. More than 20,000 employees at nearly 180 plants now use this feat of collaborative engineering to realize more than $38 million in cost savings and efficiencies.Edgar also led the infrastructure implementation for the Yard Management System, which uses wireless RFID tags to manage thousands of postal vehicles and maintain accurate yard inventories at select mail centers.Recently, he worked with five foreign postal services to enhance package movement and the associated data for improved service. To complicate matters, each service had its own technologies and approaches, and they disagreed on the approach for an integrated solution.Edgar assessed their concerns, recommended alternatives and was able to facilitate an approach for system integration that specified which components to centralize and which to implement locally.'His ability to pull together the appropriate stakeholders and discuss business needs along with appropriate technology solutions is outstanding,' said Janet Webster, manager of Retail Service Network and Access at USPS. 'He is always the calm in the storm.'Edgar said he believes strongly that developing the skills and capabilities of his employees has resulted in a strong core IT team. Staff members have received commendations from other collaboration teams, and several have been tapped to lead other organizations. 'He makes it easy for the people that he works with to be successful,' said George Wright, vice president of Information Technology Operations at USPS.Edgar tries to bring his engineering experience and viewpoint to IT issues. His long-term goal is to be a chief information officer. His advice to technology managers is to 'ask a lot of questions. Sometimes the customer doesn't know what they want, and you can help them define that.'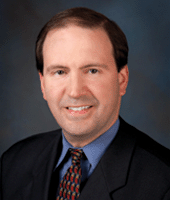 2008 GCN Technology Leadership Award winner John Edgar is manager of the U.S. Postal Service's Network Operations Business Solutions portfolio.
Submitted photo
---
MORE ON THIS TOPIC: 2008 Technology Leadership Awards home page
---