In New York, it's share and share alike
Everything James Natoli, chairman of New York state's Technology Office, needed to know about his job he learned in kindergarten.
Everything James Natoli, chairman of New York state's Technology Office, needed to know about his job he learned in kindergarten. Managing a state information technology budget of more than $500 million and dealing with 60 state agencies, Natoli said he realized the most important part of making things work is sharing: sharing information, sharing responsibilities and sharing the credit when things succeed.Of course, Natoli also is aware of the impression his office must provide to keep pushing the state's technology envelope.'We want agencies moving in the same direction, and to do that we bring them to the table and let them be a piece of the puzzle,' Natoli said. 'With a state the size of New York, you have to have a collaborative effort to get anything done.'Natoli uses a collaborative approach for almost every major project his office undertakes. One of the best examples is the state's electronic government initiative. Not only are agencies being asked to recommend what services need to be online, but Natoli's office also is holding local outreach sessions and resident focus groups.'We want to make sure the state portal is what the residents want and not what the government wants to give them,' he said. 'We are driving this like we drove' the year 2000 date rollover.Will Pelgrin, the executive deputy commissioner for the Technology Office in Albany, meets with other agency deputies to discuss the initiative's progress every three months.Natoli, who has held his position since 1995, also takes the sharing route a bit further, expecting it to pervade large agencies so they will work with small ones.'We want to build cadres in functional areas so if a larger agency is doing something that a smaller one wants to do, the smaller one has somewhere to go to learn,' Natoli said.Beyond the e-government initiative, the office's top priority is closing the digital divide for disabled persons, residents in rural areas and for those who do not have access to technology.New York hired a disability expert two years ago to implement policy so all agency Web pages are accessible. Natoli said all state Web sites are Bobby-approved. Bobby is a tool from the Center for Applied Special Technology of Peabody, Mass., that analyzes Web pages for their accessibility to people with disabilities.The Technology Office also focuses on security and privacy. Natoli hired Laura Iwan as the statewide security officer, and each agency has a security officer who works with Iwan. This made dealing with a systems intrusion such as the Code Red worm less troublesome because there was a central contact at each agency to make sure the necessary patches were applied, Natoli said.Also, the Legislature passed a law this summer to allow certain security information to be exempted from the state's Freedom of Information Act.The office's next major project is to outfit the state with a public key infrastructure, which would include digital signatures. Natoli's office released a request for proposals in June and bids were due Aug. 17.'While other states also are doing a great job, we like to think we are leading the way in terms of e-government,' Natoli said. 'There is a lot of excitement among each unit because we really enjoy what we are doing.'XXXSPLITXXX-Next year, New York residents will be able to get a bird's-eye view of their state while sitting at their computers. The statewide digital orthoimagery program, which started in 2000 as a pilot and became official in 2001, is taking aerial photographs of the entire state at resolutions of 1 and 2 feet. For this project, aerial cameras take 1-foot resolution pictures from an altitude of 7,200 feet. The 2-foot resolution photos are taken from 14,400 feet.This program is a part of the state's push to use geographic information systems to make digital maps. New York later will add data layers to its GIS, so state agencies, local governments and residents can use them for health studies, crime analysis, emergency response planning and tax assessment.Last December, New York awarded a two-year, $6 million contract with three one-year options to Vargis LLC of Herndon, Va., to perform the orthoimaging.The digital maps provide state agencies with standardized data and reduce cost, said James Natoli, chairman of New York's Technology Office.Vargis is providing the aerial photography data in formats suitable for input into three brands of GISes: ArcInfo and ArcView from Environmental System Research Institute of Redlands, Calif.; InterGraph from Intergraph Corp. of Huntsville, Ala,; and MapInfo from MapInfo Corp. of Troy, N.Y.There is only a two- to five-week window for Vargis to gather the aerial photographs. The window occurs after the snow melts and before the trees start blooming. The plan is to photograph 25 percent of the state each year. This past spring, Vargis took photos of 12,300 square miles of the Hudson Valley area and Long Island.Natoli said New York plans to use special gaming software to let site visitors virtually fly through the state using GIS images. He would not elaborate on the type of game software or the maker.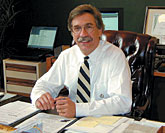 'We want agencies moving in the same direction and to do that we bring them to the table and let them be a piece of the puzzle,' said James Natoli, chairman of the Technology Office. 'With a state the size of New York, you have to have a collaborative effort to get anything done.'
All for oneCentral securityFlying high