Las Vegas places a bet on ERP system
The city of Las Vegas, which is experiencing growth at a rate of about 5,000 new residents each month, has turned to an enterprise resource planning system to handle the rapidly expanding demand for services the newcomers impose.
The city of Las Vegas, which is experiencing growth at a rate of about 5,000 new residents each month, has turned to an enterprise resource planning system to handle the rapidly expanding demand for services the newcomers impose.The city's population has reached 479,000 and its budget is about $600 million. About 2,500 city employees rely on the systems provided by the Las Vegas Information Technologies Department, which is led by Joseph Marcella.Marcella came to the job in 1997 with more than 30 years of information systems management experience, mostly in the banking sector. A graduate of Temple University, he previously worked as senior vice president and director of information systems at Norwest Bank Inc., now Wells Fargo.'Our ERP project began in 1995, when it was first known as Virtual Las Vegas,' Marcella said. Since then, the system has become about two-thirds complete.The key to the ERP system, Marcella said, is that the IT department maintains central control across the government, while the users in various vertically oriented city departments control the processes and the data.All city departments have adopted the financial parts of the ERP system, and it also handles Las Vegas' purchasing, fixed asset management, payables, payroll and human resources functions.Marcella's team will add functions to the system, including budgeting modules, and project accounting and ancillary applications.Las Vegas uses Oracle Applications Version 11.03 and an Oracle8 Release 8.0.6 database. Next year, it will make the transition to Oracle8i, development manager Louis Carr said.The Oracle database runs on a Compaq Alpha server, with four processors, under Microsoft Windows NT and Unix.The city ties together its client-server system with Ethernet, and operates Fast Ethernet among servers.Implementing an ERP system has required Marcella to recruit user buy-in to the concept of a united approach to city computer systems.The department also has retained its systems professionals by adjusting job descriptions and job functions to more responsible levels as the system has been implemented over the years.'We have virtually no turnover in the city of Las Vegas IT organization,' Marcella said. 'Our tactics have two results: First, retention, and second, we make the job interesting so the people become really productive.'For example, Marcella's department has moved programmer analyst positions to new slots as Web developers'positions for which the department received about 30 applications. Similarly, the city created the position of project developer from its former slot of senior analyst and received 20 applications.As Las Vegas' ERP matures, it takes continued attention, Marcella said. 'There is never an end to the care and feeding once you get into an enterprise resource project,' he said. 'All the departments have to talk to each other because they all are sharing the same information. There will always be some additional software additions and functionality that will be necessary.'XXXSPLITXXX-People who move to Las Vegas will not be greeted by the Welcome Wagons of the 1960s, but they can gain a lot of community information by logging on to the geographic information system on the city's Web site.City officials view their GIS as a convenient starting point for residents seeking information, city services and municipal transactions.'One thing a citizen knows about where they live, generally, is their address,' said Las Vegas Information Technologies Department director Joseph Marcella. 'They may not know the zoning; they may not know what school their kid should go to; they may not know a lot of stuff like that. But as long as we can query [city systems] from their address, we're in a position to present them with all the additional information.'Las Vegas' GIS serves as a gateway for sewer billing information, zoning and land use data, flood plain locations, and other city services and features.Residents can access part of the city's database of land ownership information and legal documents generated by planning and development cases adjudicated by the city.The public Web version of Las Vegas' GIS includes about six layers, development manager Louis Carr Jr. said. The city has more than 30 layers of data in its GIS, including layers for internal use only.Las Vegas' IT managers plan to deploy additional GIS layers on the Web for use by residents and engineering firms operating in the city.The additional layers will portray sewer mains, electrical systems, traffic control systems and landscape contour lines, among other data, Carr said.Las Vegas uses a GIS applications suite from Environmental Systems Research Institute of Redlands, Calif. The GIS runs on a Sun Microsystems A3000 server under Solaris.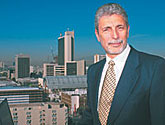 Job migration