Study: Flaws in fusion centers
House Homeland Security Committee Chairman Rep. Bennie Thompson says a lack of direction from DHS has hindered state and local fusion centers.
The Nationwide network of fusion centers intended to gather counterterrorism intelligence is suffering from a lack of direction from the Homeland Security Department, said the chairman of the House Homeland Security Committee, citing a recent legislative report.Rep. Bennie Thompson (D-Miss.) noted in a statement provided via e-mail that the state intelligence centers have not fulfilled their promise. They could, for example, provide early warnings of possible terrorist activities by reporting events such as criminal acts that could yield funds, or apparent attempts to test infrastructure vulnerabilities.'That kind of situational awareness ' if we build in privacy and civil liberties protections ' is exactly what we need if we're ever going to secure the homeland,' Thompson said. 'Because of a lack of effective federal leadership, however, state and local [agencies] have taken it upon themselves to create these centers with varying levels of success.'The centers are struggling to produce useful information as a result of tangled technology and unclear missions, according to the legislative analysis.The report, 'Fusion Centers: Issues and Options for Congress,' completed this month by the Congressional Research Service, cited problems with the centers' lack of connectivity with existing law enforcement databases and poor compliance with federally backed technical data-sharing standards.Federal agencies have contributed to the problems by sending overlapping data to the centers via uncoordinated and insecure networks that are hard to use, the auditors said.Thomas McNamara, program manager of the Information Sharing Environment in the Office of the Director of National Intelligence, said at a public meeting last week that the CRS report had been misinterpreted. Part of McNamara's response involved a restatement of the fact that various fusion centers differ in the type of information they handle, a topic that the CRS report clarified in a discussion of congressional efforts to forge a national fusion center strategy.McNamara notably did not address the report's finding that the fusion centers have failed so far to fully merge all potential sources of terrorist information, which would constitute a technologically enabled analysis of disparate data sources.CRS cited state officials' complaints of the high costs of preparing facilities to meet federal standards for handling highly classified information.The officials cited costs of $75,000 to $100,000 to provide the secure space needed to protect each classified workstation that federal agencies provide, and they said state governments don't receive reimbursement for those expenses.Even if the technical means of information sharing worked, the rules for shifting data across systems hinder the process, state officials told the congressional investigators. The officials cited more than 100 different categories of sensitive-but-unclassified information.The state centers' technology woes are reinforced by the fact that many states lack systems to pool data from relevant databases and networks within their jurisdictions. 'Such systems are expensive and potentially problematic in getting all agencies with homeland security-related missions to adopt a particular system,' the report said.The auditors cited one fusion center that had access to only 30 percent of the law enforcement data available in the state. Officials at that center said their connectivity compared well to that of comparable centers.Fusion center officials told the CRS investigators that federal data-sharing networks such as the Homeland Security Department's Homeland Security Information Network and its sister network, HSIN-Secret, along with their numerous counterparts operated by other agencies, provide a time-consuming flow of uncoordinated information to analysts in the centers.'There is some misunderstanding around the CRS report,' McNamara said.He said most fusion centers don't focus just on counterterrorism work but cover all crimes, including terrorism. He said a few centers, such as those in New York City and Los Angeles, concentrate strictly on counterterrorism, but they are not typical.'The ISE is pushing to use the fusion centers as a node of communication between federal and state and local governments,' he said. 'It is hard to talk to everyone so if Washington can talk to 50 states, who then communicate it down to the local level, that is much better.'McNamara also said fusion centers should integrate and filter information from the local level to pass to the federal level.ISE soon will launch a new system that the organization will use to create and manage the flow of suspicious activity reports that come from fusion centers.'This is an example of one business process we need to change,' McNamara said. 'We have to figure out how to make reports from 17,000 to 20,000 police departments usable.'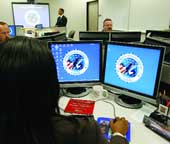 Intell Gathering: Personnel, who didn't want to provide their names, work in an unsecured training area of the Los Angeles Joint Regional Intelligence Center.
AP Photo by Nick Ut
Overlapping dataNot just terrorism