Airborne emergency communications
A consortium of federal agencies, universities and private companies recently tested the idea of using aerostats ' tethered, blimp-shaped balloons ' as a way to restore emergency communications after a disaster.
When a natural or manmade disaster puts ground-based communications out of commission, one alternative could come from the air. Officials tested the idea in September in Sandusky, Ohio, during a demonstration of the potential role aerostats might have in restoring emergency communications.Proponents of aerostats ' essentially tethered blimp-shaped balloons ' say they can provide temporary wide-area communications when disaster wipes out fixed towers. The Sept. 24 consortium of federal agencies, universities and private companies tested communication payloads on a 75-foot long Army-owned aerostat.[IMGCAP(1)]Program officials from Ohio's Multi-Agency Radio Communications System ' a statewide 800-MHz digital trunked radio system -- sent a weather-proofed radio repeater up to 1,000 feet. At that altitude, the system locked onto a tower about 50 miles away, said Steve Garwood, a MARCS telecommunications system analyst.'It opened some eyes,' Garwood said. 'We're going to keep working on it.' Among the improvements Garwood wants in time for another anticipated test flight in Ohio next year is a way to control the repeater remotely. During the demonstration, changing the channel would have required hauling the aerostat back down and manually flipping it. A way to control which tower the repeater interfaces with in real time would also be useful, he added.The aerostat also carried a Qualcomm-based wireless transmitter developed by Western DataCom, an Ohio-based company seeking to develop a domestic market for aerostat-mounted communications. The system threw a cellular signal optimized for data transmission across an 11-mile diameter area, said Philip Ardire, the company's president. Trucks equipped with receivers then converted the cellular signal into Wi-Fi in order to maximize the number of Internet-connected users.'It was the first time, that I'm aware, that anybody flew a cellular system on an aerostat,' said Dan Shell, Western DataCom's chief technology officer. The aerostat could have easily flown higher, casting a wider communications footprint, but officials opted to keep things simple for demonstration purposes, Ardire said.A , conducted over several days and including imagery, was held in April at Redstone Arsenal in Alabama.Aerostats aren't the perfect platform for every setting, however. Strong winds can destroy them when they fly at altitudes of just thousands of feet ' a danger also making their deployment to urban settings unlikely, said Philip Paulsen, an official with the NASA Glenn Research Center who was involved in setting up the demonstration.Also, no one has yet found a business model to support aerostat deployments. The actual balloon plus the gantry to support payloads costs about half a million dollars, Ardire said. As for payloads, the Qualcomm router alone costs $300,000, he added, making it unlikely that any one state would buy the equipment to have on tap in the event of an emergency.One possibility is for several states to pay a retainer to a private-sector company for the right to deploy it during an emergency on the assumption that disasters rarely strike multiple states simultaneously, Paulsen said.Another option might be to keep the aerostat working year-round for persistent monitoring of environmental conditions, a solution favored by officials in the office of Rep. Mary Kaptur (D-Ohio).'If you look at it sitting in a warehouse month after month, it's a horrendous cost. If we look at it being used for environmental monitoring, all of sudden, it's a wise way to spend money,' said Daniel Foote, a Kaptur staff assistant.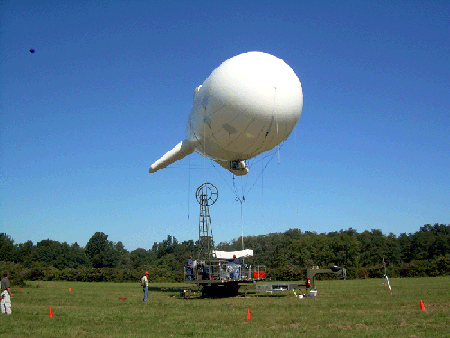 The 75-foot aerostat, owned by the Army, sent a cellular signal 11 miles in diameter from 1,000 feet during the test in September.
AeroCentric Foundation
similar test