FOSE puts the 'e' into everything
For years, the 'e' in IT terminology has stood for electronic. E-mail, e-commerce, e-government, e-services. But the abbreviation has become so ubiquitous that it has taken on a new meaning: expected.'The 'e' is understood,' said Bill Howell, general manager of FOSE, the government IT trade show that starts tomorrow in Washington. 'It's expected that whatever you produce, it will have all the things that have been headline issues'security, enterprise architecture, accessibility'built in.'The federal IT community will get a close look at new products designed with those goals in mind at FOSE, which runs through Thursday at the Washington Convention Center. The show is owned by PostNewsweek Tech Media, publisher of GCN.The 100,000 square feet of exhibits on the show floor will give visitors a look at all sorts of hardware, software and services.'There will be more exhibitors than we've had in the 10 years that I've been here,' Howell said. 'There are more and more vendors who are bringing products to solve the breadth and depth of issues that face the government.'Educational sessions at FOSE will include technical training on Microsoft Corp. and Adobe Systems Inc. software, management instruction, and tutorials on topics such as procurement, new technology and enterprise architecture.The trade show also will feature the winners of the GCN Best New Technology Awards, which went to a crop of hardware and software products that cover new ground.'This year we saw a lot of innovations that broke the mold,' said GCN Lab director John Breeden II, adding that in years past many winning products were impressive upgrades of previous releases. 'Almost every product that won this year was an entirely new product.'For instance, the Netbook Pro from Psion TekLogix Inc. of Mississauga, Ontario, won a Special Judges' Award because there was no specific category for it; the portable touch-screen device is neither a notebook PC nor a tablet.The staff of the GCN Lab will be on hand through the show to demonstrate winning products and interview representatives from the winning companies.This year's show also will feature much closer involvement with the popular media. Among the panel discussions and other sessions will be a talk with cartoonists Mort Walker, Rich Tennant and Clay Bennet, hosted by newscaster Sam Donaldson; a keynote conversation on e-government hosted by Eleanor Clift, contributing editor of Newsweek; and an executive breakfast hosted by Newsweek technology editor Steven Levy.FOSE also will host several radio broadcasts, including a panel discussion moderated by GCN executive editor Thomas R. Temin with Barry West, CIO of the Federal Emergency Management Agency; Rob Carey, deputy CIO of the Navy; and W. Hord Tipton, CIO of the Interior Department.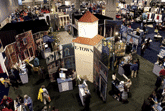 E-Town, back again this year, will be among the big draws on the FOSE show floor.
This and that