Boot camp
Developers of the Army Recruiter Information Support System knew they had a scattered'and mobile'user base.
Developers of the Army Recruiter Information Support System knew they had a scattered'and mobile'user base.'The problem we had was how to apply technology to create a work-from-anywhere capability,' said Mike Ed- wards, senior system architect for ARISS.A recruiter in a small town might have to drive miles to talk with potential applicants out in the country. Any method of highlighting the candidates most likely to join, and most qualified to do so, would save recruiters' time and energy, not to mention taxpayer dollars.'What we want to do is provide qualified leads for the sales force,' said Craig Ekman, a functional manager for the Army National Guard.System developers looked at a number of new technologies just reaching maturity, including data replication tools, business intelligence software, workflow systems and Web portals.The team carefully defined a modular architecture that allowed the system to be upgraded and enhanced as new technologies came on board, Edwards said. They undertook an elaborate process of picking software and hardware. Finally, they prototyped the system to gauge how it would work in the real world.Early on, the team decided on a three-tier database model, he said. This is an unusual approach, but the team decided it was best suited for the job.Databases would be located on the recruiters' notebook computers as well as in regional centers. In addition, one enterprise database would hold information collected and used by all the recruiters. Replicating the data down to a recruiter's notebook would provide the latest information on a prospect, even if it came from another recruiter or office. But by storing everything in a central repository, recruiters could tap existing information rather than create it anew.The team consulted with a number of database vendors to find the best software, Edwards said. They validated the architecture through a stringent product evaluation process to ensure that it could be done. The team defined mandatory and optional requirements in a matrix format. Vendors who best met the requirements were then brought in to demonstrate their products.The team decided that Sybase Inc. of Dublin, Calif., offered the most mature database replication capability available at the time. The notebooks use Sybase's SQL Anywhere to synchronize with the home office, and any fresh data from the recruiter is placed on one of 10 regional databases.Using SyBase's Replication Server, those 10 databases are synchronized with an enterprise database as well as a continuity-of-operations backup system.To test the architecture, the team used the Army's Fort Huachuca, Ariz., Technology Integration Center. The prototype design was set up at the center and subjected to a load test to see how it would work under day-to-day conditions.One key to development was sticking with open standards, the team said.'We're trying to stay platform-independent,' Edwards said. The open standards help the system interoperate with such other Army systems as the Military Entrance Processing Command system, which evaluates candidates' fitness to serve.'It really doesn't matter what platform another system is running on. We can interface pretty much with anything,' Edwards said.The open-standards approach also permits easier modification, according to Ekman. The original modules were built with a client-server architecture, but when the Web services model came more into use, the team found it easy to migrate to open Web standards.As the conflict in Iraq escalated, recruiting requirements changed, and the system could easily accommodate those changes, he said.Today, all of ARISS' applications except those running on notebooks are Web-based, Edwards said. Many parts of the system were written for a Java 2 Enterprise Edition-based platform and run on either Jaguar application servers from Sybase or WebLogic servers from BEA Systems Inc. of San Jose, Calif.Most of the electronic documents can be signed electronically and stored in the Documentum content management system from EMC Corp. of Hopkinton, Mass.Today, ARISS supports 10,000 Army, Army National Guard and Army Reserve recruiters. It automates the process of qualifying leads and helps recruiters fill out and send the proper forms.'We don't have to deal with paper-based cards that we have to keep track of. Now, when the recruiters type up the forms, it is single-source. You type it up once, and it goes to all the forms that need to be filled out,' said Lt. Col. John Miller, functional manager from the U.S. Army Recruiting Command. The Army Accessions Command oversees the system.A final, central ingredient for creating a solid working system was user input. 'This is a system that was developed by the recruiters for the recruiters. They had the experience to know what is needed out in the field at the time,' Miller said.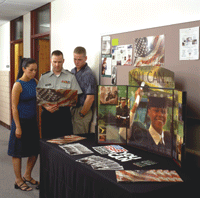 ARISS helps 10,000 Army, Army National Guard and Army Reserve recruiters keep track of potential recruits.
Courtesy Army National Guard
For a system to support recruiters, Army runs technology through the gauntlet